Chlorella and spirulina are often confused. Which is not very surprising, because they are both algaes with an exceptionally high nutritional value, but they are not entirely the same. Read here what the difference is and what positive effects these superfoods can have on our body.
Chlorella
Chlorella is a green a small unicellular algae that lives in freshwater ponds and lakes. Chlorella has been around for more than two billion years. It grows in large quantities in Southeast Asia and it gives rivers and lakes their green color. Chlorella was discovered in 1890 by a Dutch microbiologist, namely M.W. Beijerinck. The algae is microscopically small. Chlorella has a round shape with a diameter of only 2 to 10 microns.
Spirulina
Spirulina belongs to the blue-green algae family. It is a miniscule little algae that looks like spiral formation, hence the name "spirulina". Spirulina is more than 3.5 billion years (!) old and therefore one of the most important and oldest algae species in the world. Originally the alga lives in alkaline (mineral-rich) water. Spirulina is unique due to the substance phycocyanin which gives this alga its blue color. This powerful antioxidant stimulates the immune system.
Similarities of chlorella and spirulina
Both chlorella and spirulina are full of essential fatty acids, proteins, vitamins and minerals. They help with fatigue and give you more resistance and more energy. Both spirulina and chlorella have a high content of chlorophyll. This is the green colorant in the leaves of plants that capture sunlight and convert it into energy. Chlorophyll has a cleansing and protective effect. It provides, as it were, a protective layer so that harmful substances can no longer be absorbed into the body through the stomach and intestines. The liver is also protected against the absorption of toxic substances, which can be removed through the protective layer of the chlorophyll. In addition, chlorella and spirulina are also rich in beta-carotene, a provitamin that the body converts to vitamin A. It plays an important role in the cell renewal process and contains anti-oxidative properties.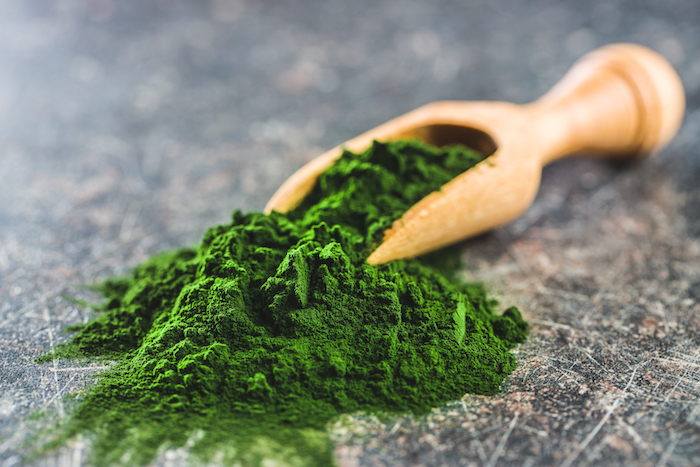 Differences chlorella and spirulina
Chlorella and spirulina have many similarities, but they also have clear differences, starting with their appearance. Chlorella is a green alga, while spirulina has a blue-green color. Chlorella is also a freshwater algae and spirulina a saltwater algae.
Regarding the effect: spirulina has a less strong cell wall than chlorella and is therefore easier to digest. Chlorella and spirulina are both detoxifiers; while chlorella is one of the most powerful natural detoxers of mother nature, spirulina is a lot more mild. This is because chlorella contains 4 to 5 times as much chlorophyll as spirulina. Chlorella is therefore suitable for people who want to detox because of an unhealthy environment (such as smoking, alcohol or a stressful working environment).
Spirulina also offers higher levels of phytochemicals that help prevent cancer. Just as chlorella is known for its detoxification, spirulina is especially effective in combating symptoms of allergies and stimulating the immune system. In addition, spirulina is a source of gamma linoleic acid (GLA), which is essential for maintaining a sharp mind and a healthy heart. Another difference is that spirulina contains more protein than chlorella and is therefore more attractive for athletes.
Last but not least, chlorella contains more iron and beta-carotene than spirulina and it also contains a unique complex called chlorella growth factor (CGF). This growth factor is caused by the rapid reproduction speed. It has been shown that chlorella may repair nerve tissue damage and promote cell production.